Beauty Products We Use
Brazilian X only uses and retails the best Skin Care and that is …..
O Cosmedics!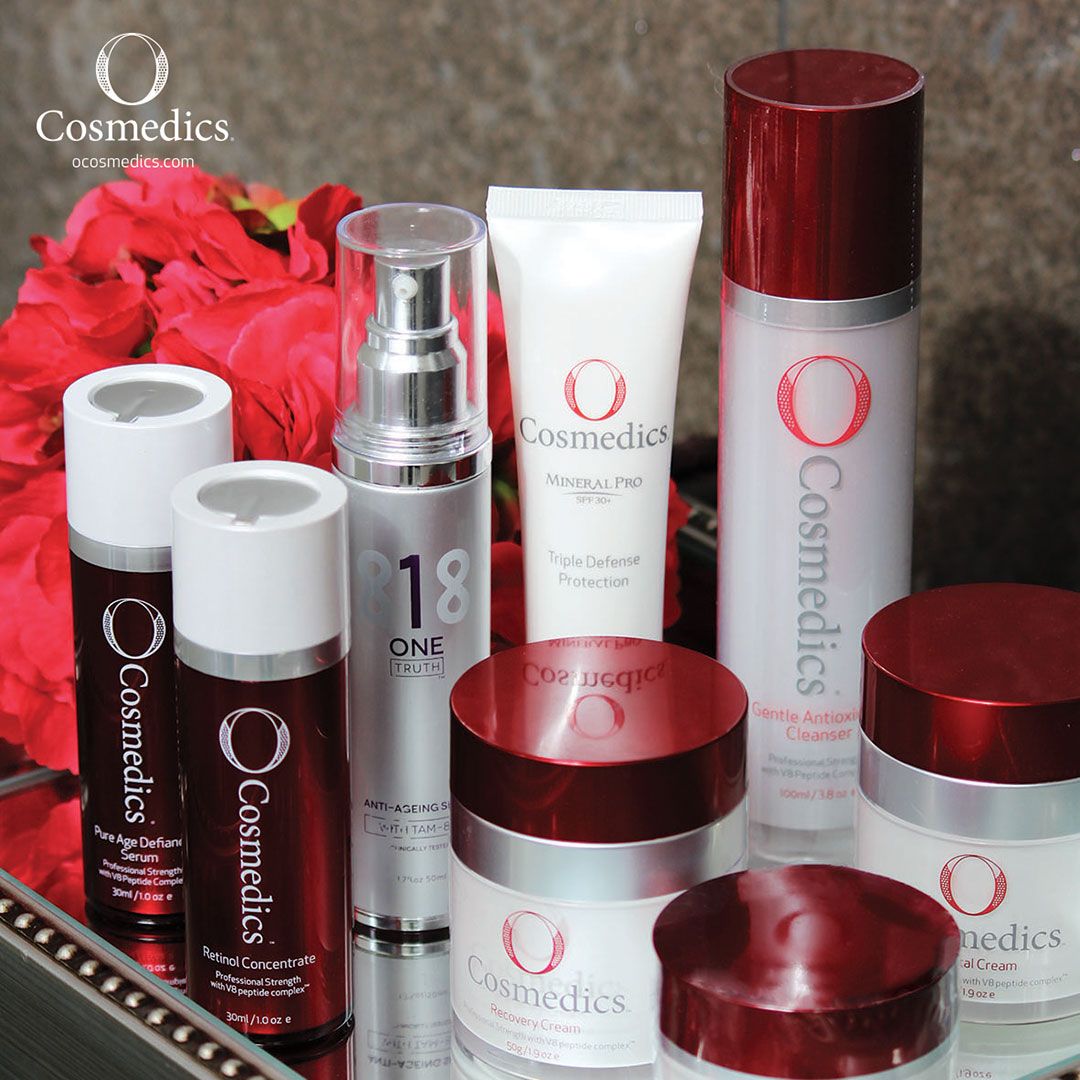 Rather than claim the Holy Grail on barely-there volumes we've formulated O with potent, concentrated active ingredients. O's cosmedical approach uses the purest combination of medical grade ingredients and cosmetic science and blends it harmoniously with nature. O Cosmedics has the worldwide exclusive rights to the V8 Peptide Complex™ and no other company worldwide can use it! The complex is highly regarded among skincare professionals for forging the way in proven anti-aging results. Found in all O products (excluding the pure C + BHA powder) V8 Peptide Complex™ works behind the scenes on the essential cell structure to age proof your skin and accelerate healing and rejuvenation, giving you ultimate skin health and skin youth.
O is further powered by OLIVEM®1000-Crystal Skin a BIOMIMETIC restructuring agent. BIOMIMETIC is a fancy word for "mimics" hence O only uses cream bases that have the ability to mimic the structure of the skin barrier layers (technically referred to as the skin lamellar bi-layer lipids).  So what does this mean to you I hear you ask? Free of emulsifiers, the BIOMIMETIC nature of O creams and serums will ensure the skin's barrier is healthy and strong, support optimal hydration levels hence is in a position to ease and prevent serious skin concerns, prevent irritation, inflammation and weakness as well as support the transportation of potent active ingredients into the deeper layers of the skin making it an anti-aging force.
But wait, there's more!
O uses next generation, intelligent antioxidants that protect the cells from free radical damage. Micro Encapsulated Retinol O's skin renewal weapon which assists the skins regeneration, renews skin tone, supports collagen production and diminishes the appearance of lines and wrinkles. Phytokine found to be more efficient than Vitamin A in collagen activation, boosts the skins repair mechanism; restores its protective barrier and dramatically reduces inflammation.  Cococin accelerates cell growth and MultiSal Salicylic Acid next generation BHA, which deposits high levels of salicylic acid into the skin to dramatically increase the moisture content at cellular level and the good news is it keeps working in the skin for two hours after application. It's like drip-feeding your skin! Resveratrol, Niacinamide, mega doses of SNAP-8 and Hyaluronic Acid and that's just the tip of the iceberg! (for a detailed list of ingredients please see our ingredients glossary).
And if that's not enough O is Chiral (a purification process that identifies the most effective part of the ingredient molecular and is injected into O in its most pure and potent form), ORGANIC where possible and best of all contains no nasties, so NO Parabens, petrochemicals, synthetic fragrance or colour, no SLS, chemical fragrances and kept all animals out of the lab! Put simply, O corrects the passage of time and lays the foundation for timeless beauty. There are few who can lay claim and back that with irrefutable proof. We've taken the O range through its paces to make sure it stacks up to what you'd expect from a high performing product. Based on international research and clinical data there's no room for error. O represents precision skin care. No surgery or needles, simply a daily commitment to feeding your skin with the very best in skin science.
Australian made and owned, O Cosmedics is a successful collaboration with leading scientists around the globe and local cosmetic chemists. O is based on the purest combination of medical grade ingredients, cosmetic science and our very own world exclusive V8 Peptide Complex™ and was designed on the threshold of medicine to treat the five major causes of aging.
O Cosmedics stands for skin health, skin youth and skin confidence. We believe in feeling happy in your skin no matter what age or stage of your life you're in. For us, the best and most rewarding part of doing what we do is seeing you in your happiest, healthiest skin possible and knowing that skin confidence helps empower you to be whoever and do whatever your heart desires.
Your skin deserves the absolute best of care and that is exactly what we offer you using O Cosmedic's. Call us today to find out more.
Don't miss out on special deals!
SPECIAL DEALS TO YOUR INBOX